WARNING: This recipe takes at least 2 hours or 4 beers to prepare and 3 hours to finish.  It depends on how you measure time.
Gumbo Ingredients:
1 whole chicken
1 package Andouille sausage
2 medium onions (diced)
2 stalks celery (diced)
1 bell pepper (diced)
Tony Chachere's to season to taste
Roux Ingredients:
4 large heaping spoons of flour
4 large spoons of vegetable oil
First you need to make a Roux:
Pre heat large (medium hot temp), heavy/thick pot (thin, stock pot's will burn food)
"Equal" parts flour and vegetable oil (four large serving spoons; flour heaps)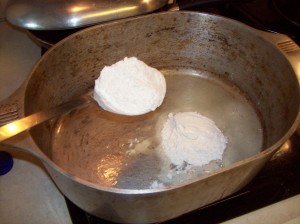 Mix together until smooth and covering the entire surface ; it should be thick, like tooth paste, add flour or oil to adjust.

Mixture should bubble.

Watch and stir to keep it from burning; use your nose; you can bring it to the edge of burning before stirring if your nose is good.  If not, stir more often. As the roux cooks, the browning will accelerate. Watch carefully.

Temperature will determine browning speed, super fast is not always better, it should take about 15-20 mins or one beer.
Don't stop at caramel, go for chocolate cake.
When done, remove and let cool in a small bowl,  any "extra" oil will separate.

Prepare Meat:
Peel, half and then slice Andouille,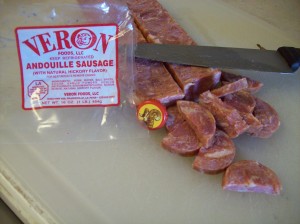 Cut whole chicken, using momma's breast trick.  Most people get 8 pieces out of a whole chicken, but my momma made a few more.  She would slice off the wing and take off part of the breast.  She would then slice off the from of the remaining breast.
Brown Meat and Vegetables:
Brown chicken first, browning adds flavor and fat will be used to brown sausage and then vegetables.

There is no need to fully cook meat; it will finish in liquid later.
Brown/saute  onions, celery and bell pepper.
Add first round of Tony's seasoning.

Brown is too strong a word but saute is too soft.  You want a heat that is in between.  The veggies should darken and soften.  I know the veggies are done because they look like they don't have any crunch left.  Later they should melt into the liquid. The onions should lose all of their white.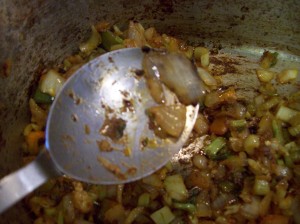 Finish Gumbo:
Add water to remove good things from bottom to the pot.

Add all the meat back to the pot and cover with hot water.
Add Roux and melt into water.

Add seasoning to taste.

Add garlic. Since we use lots of garlic, I cheat.

Bring to a boil. Lower fire and simmer at least an hour, but always as long as you can stand it.  The longer gumbo sits the better it is.  Leftovers are incredible.
Serve:
Serve over rice.  Traditionally, the cook does not debone the chicken before serving, but I do.  It makes the meal more pleasant.  You should also serve with potato salad, but Jackie does that and you have to ask her for that recipe.
Comments
You must be logged in to post a comment.