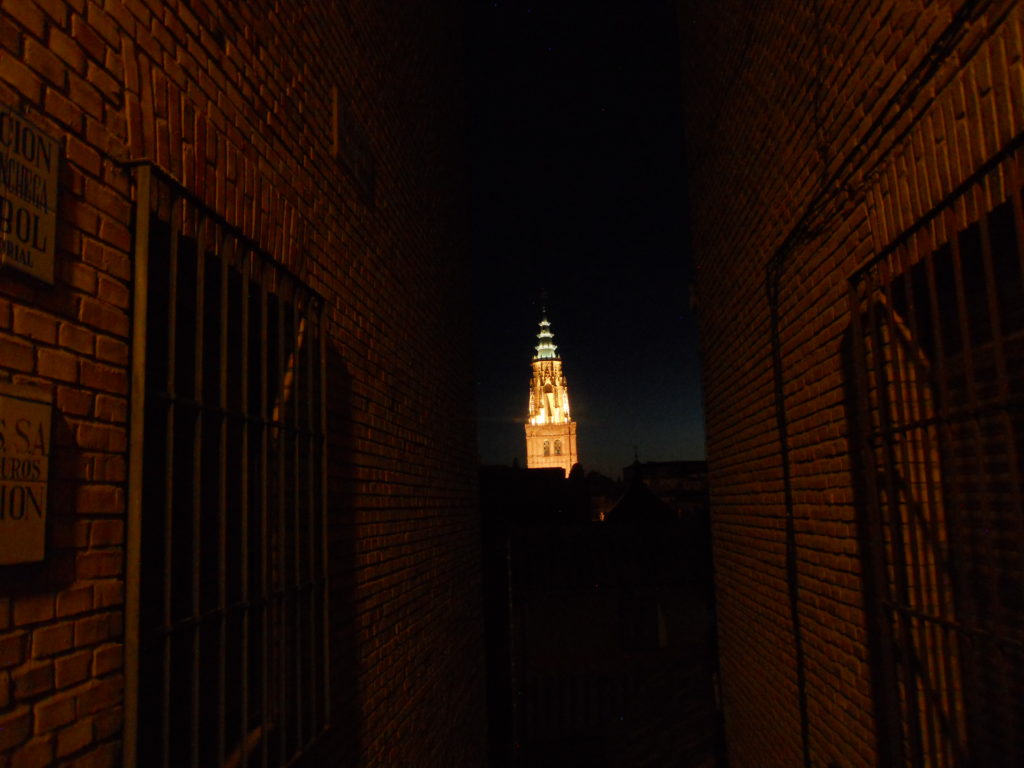 Our apartment had a clear view of the cathedral steeple. We followed Rick Steves' suggestion and attended a Latin mass in the cathedral first thing in the morning. About five men sat on each side of the Chapel's choir Enchanted the first portions of the mass. This part of the cathedral is dedicated to the Catholic "cult."
Aftermath we walked around to the side, and paid her entry fee into the main part of the funeral. It was rather plain compared to other cathedrals in France. It did have interesting blending of Gothic and baroque.
The Highlight was a small room off to the side with more than 10 El Greco's. The main event was called the Disrobing of Christ. Christ red robe dominates scene. And Jackie pointed out that there is a highlight on a yellow Rogue figure in the bottom left-hand corner. 

















Off to the side almost unnoticed, is a Goya painting capturing the moment Christ is portrayed in the garden, "The Arrest of Christ." The image remind me of the 4th of May with its spotlight on the victim of tyrannical violence.












In the same room is an El Greco Joseph and Jesus. It's a typical El Greco Style. It was interesting to see the landscape of Toledo down in the right-hand corner.










We walked to a tiny mosque, later converted into a Catholic Church. It looked like a nice quiet retreat from the sun.
Walking all the way across town, navigating the twists and turns, we arrived at the Museum Casa El Grecco. In the early twentieth century a wealthy patron purchased and renovated a house beloved to be El Grecco's. It is home to portraits of the Apostle's and a view of Toledo.
Our day out ended with a tour of Santa Cruz, a converted Convent/Orphanage. It focused on two centuries of Hapsburgs. Once again, the highlight was an El Grecco.
We picked up the ingredients for a simple meal. Sausage, onions and zucchini over couscous. I paired it with my favorite Spanish table wine, Blanc Pescador.
Comments
You must be logged in to post a comment.